Fijian Village Tour with School Visit
Australia and South Pacific » Fiji » Nadi » Nadi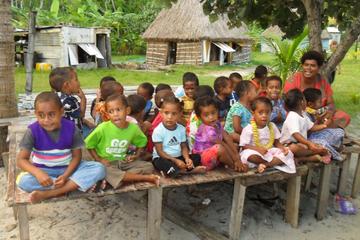 Duration: 3 hours
Departs: Nadi, Fiji
Price from USD 40.19
Book Now
The local Fijian Village and Pre-school tour will allows one to have a look inside the daily lifestyles of the Fijian people. The Fiji Islands is one of the few places on earth which still practices authentic culture and lifestyles. To know how this feels and how this is done, one will need to engage into the daily doings of the local people. After visiting the local village, take a walk or ride to a pre-school. Majority of pre-schools in Fiji are located within the villages. These schools have kids from the surrounding village and will definitely be happy to see you there!!
The Fijian Culture is one that touches your heart and allows you to take back home unforgettable memories. Engage yourself in the daily lives of the locals and enjoy a few bowls of Kava and the Talanoa sessions where you will learn what authentic Fijian Village lifestyle is. Fiji now has only one Fijian Village which practices authentic lifestyle. This is called the Navala Village and is located in the interiors of Ba (Western, Viti Levu). If you would like a visit to this village then please advise and we will take you there.

After a Kava session, enjoy listening to some rhymes, songs and stories from the little kids at pre-school. You will surely love what they will have to do for you and last but not the least....

Do not forget to bring your camera to capture these beautiful moments.
« All Activities